For those of you still in "staycation" mode, summer may be ending soon, but that's no reason to not get out and enjoy all of the wonderful offerings that Vancouver provides. Spending those remaining summer days having fun on amusement rides or experiencing live theatre entertainment, is a win-win for everyone!
This September, go check out the Pacific National Exhibition (PNE) – an icon of Vancouver entertainment, culture & events for over a century. The PNE hosts the popular summer fair each summer, yet the true spectacle is their selection of amusement rides at Playland.
Once you've had your carnival thrills, explore Vancouver's Fringe Festival – every theatre lover's dream come true. Featuring over 700 performances by approximately 100 artists, the festival is expected to draw over 40,000 attendees again from September 5th – 15th this year.
Check out some of our favourite rides at Playland, along with some highlights happening at the 35th annual Vancouver Fringe Festival.
Get ready to be lifted over 200 feet up in the air, while spinning 360° at 70km/hr.

20 cars are attached to a large wheel which rotates until you are totally upside down. Now that's what we call, defying gravity!
Need more adrenaline? This ride provides 4.5 G's of excitement! Riders are secured in seats which shoots you upward at 75 kmph.
16 cars spin around a rotating disk until the lateral forces make your car dance. So fun!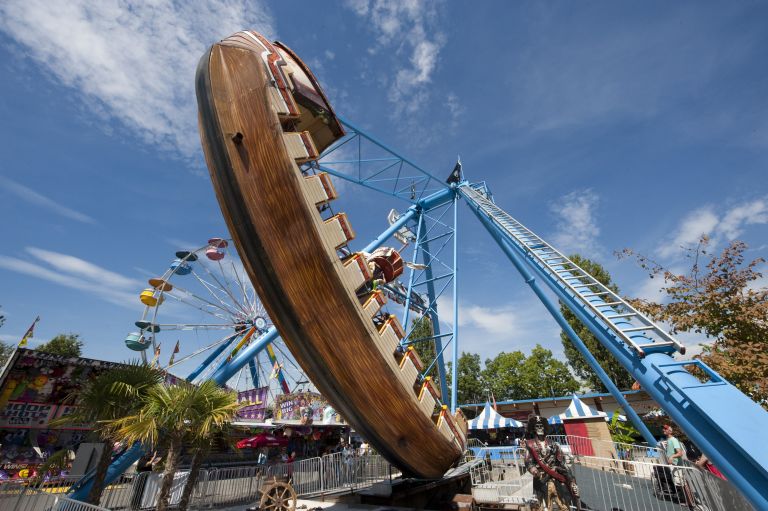 The pendulum-like motion of the ride simulates a feeling of weightlessness as the boat continues to rock further upwards.
Designed for all ages & offering gorgeous views of the mountains – at no additional cost!
More info. here from our friends at Tourism Vancouver: https://www.tourismvancouver.com/listings/pacific-national-exhibition/17786/
---
The Vancouver Fringe Festival is BC's largest theatre festival that adopts a unique "everyone is welcome" policy, which means every artist has an equal chance to be randomly selected to participate!
Vancouver Fringe Festival
As in years past, the Fringe will be located at Granville Island, which is easily accessible from all of the best hotels downtown. In addition to the theatre shows, the Phillips Fringe Bar will be serving beverages during the festival, with live music every night. 
Check out the short video to get a feel of what you can expect, with scenes from a variety of fun-filled & excellent shows! To obtain your very own program guide (packed with show information, artists & venues), go here: DIGITAL GUIDE. Hope to see you there! 
More info. here from our friends at Vancouver's Best Places: https://vancouversbestplaces.com/entertainment/vancouver-theatre/vancouver-fringe-festival/
---
Looking for the perfect reason to enjoy a staycation in downtown Vancouver this month? Take advantage of our exclusive Staycation Offer while you & your loved ones are enjoying our beautiful city! We have FREE gifts & incentives popping up all the time for residents and travellers – so sign-up to our newsletter, if you haven't done so already!